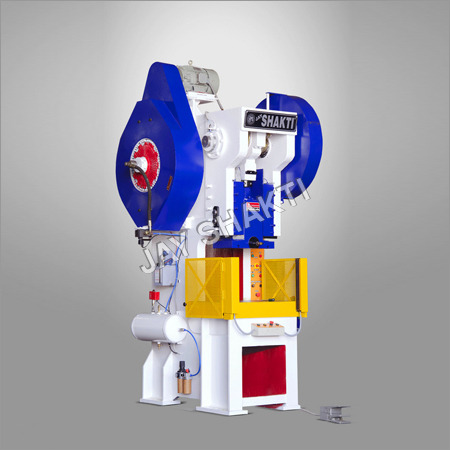 Pneumatic Power Press Machine
Price And Quantity
Piece/Pieces

300000.00 INR
Product Description
Owing to our expertise in this domain, we are engaged in manufacturing, exporting and supplying the premium quality Pneumatic Power Press Machine. The offered machine is manufactured using high grade components and ultramodern technology under the guidance of our skilled technocrats. Further, the provided machine is available in different specifications and can be customized as per the key requirements of our clients within the promised time frame. Due to its features such as smooth operation, better performance, compact design, longer service and easy installation, this Pneumatic Power Press Machine is highly demanded in the market.
Features:
Optimum performance

Precision engineered

Smooth operation

Power efficient
STANDARD ACCESSORIES:

Electric motor

Control panel with selection of INCH-ONCE-AUTO mode of operation

Foot switch fine stroke adjustment rod with limit switches

Manual back gauge

Standard V-block & punch

Manual lubrication

Instruction manual

Tilting arrangement system
OPERATIONAL ACCESSORIES:

Goose neck punch and other tooling
Electronic stroke counter
NC operated back gauge
Automatic lubrication system
Anti deflection system
Further Details:
"JAYSHAKTI" Presses are available in capacities of 5 Tons to 250 Tons in Double Geared or Single Geared "C" Type Models
Frame :-Frame is of robust fabricated steel construction of rigid & interlocked design.It is strain-free and supports the ram and bed.

Pneumatic Clutch & Brake:- Pneumatic clutch & combined brake linked with the fly wheel engages every time when the foot switch or both hand is pressed.

Crank Shaft:-It is made of special EN8 high tensile steel machined and ground to highest degree of accuracy

Bearings:- Bush Bearings of high grade Gunmetal machined to almost grade of accuracy with provision of oil grooves to ensure a proper fill of oil lubricant for smooth running of the machine in all condiitions.

Knock Out:- Presses above 10 Tons capacity are fitted with knock-out Brackets for stopping down the parts drawn,thus facility the work.

Ram:- Ram is of rigid construction of high tensile cast iron/cast steel with round die shanke hole and clamp.It can be tightend by means of the screws on the side.The slide can be adjust the stroke as desired with out hit and trial method.

Stroke:- Power presses are manufactured with adjustable stroke. A multiple Claw Sleeve with graduation is provided to get the required adjustment in the
Stroke. Operator can adjust the stroke as desired without hit and trial method

Fly Wheel:- Made of high grade C.I. and designed to generated the maximum energy.

Power Supply:- 400/440 Volts, 3 Phase, 50 Cycles. * All dimensions are in mm. * Electricals are not under Warranty.Through our technical department continual Development, Variation in size and performance are subject Without prior notice.

NOTE: WE ALSO MANUFACTURE ANY TYPE OF PRESSES AS PER YOUR REQUIREMENT IN ANY CAPACITY
TECHNICAL SPECIFICATION
CAPACITY
10
20
30
40
50
60
75
100
150
200
250
Crank Shaft dia
63
76
83
95
101
108
121
134
145
160
170
Stroke Adjustment
06-50
13-76
13-89
13-95
13-102
13-102
13-115
13-127
13-152
13-165
13-165
Max. Dist Bolster To Ram (SUAU)
215
255
300
375
400
440
480
505
610
710
750
Slide Adjustment
25
38
38
38
45
45
45
51
51
51
63
Slide face (FB x LR)
101 x 260
140 x 310
165 x 330
170 x 365
210 x 380
210 x 380
235 x 450
280 x 560
315 x 600
340 x 625
360 x 700
Punch Hole(Dia x Deep)
25 x 45
32 x 50
38 x 65
45 x 76
51 x 85
51 x 85
55 x 95
63 x 102
63 x 110
63 x 110
63 x 110
Throat distance
127
152
178
203
260
280
292
318
369
420
450
Size Of Table(FB x LR)
254 x 430
305 x 508
355 x 558
405 x 660
520 x 750
560 x 787
585 x 863
635 x 1016
737 x 1016
840 x 1118
900 x 1150
Opening in the Table Dia
76
102
127
190
203
210
222
228
242
260
275
Bolster thickness
60
70
70
76
76
82
89
102
102
115
127
Height of table surface From Floor
720
750
750
775
775
800
850
825
850
850
850
Fly Wheel Dia
405
508
558
660
762
838
914
991
1118
1270
1320
Stroke Per Minute
70
45
40
35
35
45
45
45
35
32
30
Electric Motor (H.P. / RPM)
1/1440
2/1440
3/1440
5/1440
5/1440
7.5/1440
10/1440
10/1440
15/1440
20/1440
25/1440
App. Overall Size FB x LR x HT
850 x 635 x 1450
975 x 735 x 1650
1075 x 825 x 2050
1350 x 1025 x 2550
1450x1150 x2725
1550 x 1225 x 2850
1730 x 1400 x 3250
1905 x 1550 x 3525
2110 x 1760 x 3785
2385 x 2020 x 4125
2450 x 2100 x 4350
Weight(Approx)
900
1600
2200
3000
3500
4000
5500
7000
9000
11000
14000
air pressure (kg/cm^2
5.5
5.5
5.5
5.5
5.5
5.5
5.5
5.5
5.5
5.5
5.5