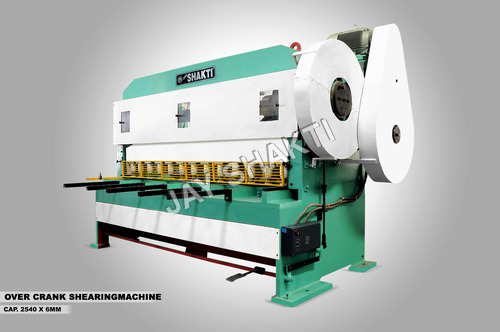 Over Crank Shearing Machine
Product Description
Empowered with immense years of domain experience and market understanding, our organization is engage in offering a wide range of Over Crank Shearing Machine. The offered machine finds its applications in various industries for preciously and accurately cutting of metal sheets. The provided machine is manufactured under the stern supervision of our adept professionals in compliance with international market norms. In order to meet the customers variegated requirements, this Over Crank Shearing Machine can be availed from us at pocket-friendly prices.
Features:
Equipped with sharp cutting blades

Rugged construction

Long durability

Easy to install and maintain
Other information:
FRAME:
Rigid steel frames are optimally designed to avoid weak sections at load supports and is of interlocked design. The ram is guided throughout its length by accurate machined guide ways ensuring proper clearance and clean cut.
HOLD DOWN SYSTEM
The cutting accuracy is affected by the sheet hold down pads. the shears are provide with mechanical hold-down system. the hold-down is actuated by cam on the crank shaft through levers. The hold-down pads hold the sheet securely to avoid slipping and bowing resulting in clean square cut.
BLADES:
Jsmt shears are provided with high quality single segment (HcHcr) blades for longer tool life. Ease in assembling of knife reduces down time. The shear blades are four edged.
LUBRICATION:
All bearings parts and guide surfaces are lubricated through hand operated lubrication system.
MECHANICAL BACK GAUGE:
This is standard equipment provided on all shears. Scale on the back gauge gives instantaneous reading of distance between shear and back gauge. Thus avoiding error and maintenance encountered in electronic equipment.
FINGER GUARD:
Fitted in front of hold down for operator protection without obstructing viewing.
STANDARD ACCESSORIES:
Hand operated back gauge.
Manual lubrication system.
Mechanical hold down & instruction manual.
OPTIONAL ACCESSORIES:

Automatic lubrication system
Electrical consists of electric motor
Ball roller or ball transfer
N.C Back gauge, Extension Squaring arm
Hydraulic Hold downs systems
Motorized Back gauge with dro.
POWER SUPPLY:
400/440 volts, 3 phase, 50 cycles.
All dimensions are in mm.
As day to day improvements are contemplated we deserve the right to change specification/design without prior notice.
MODEL
CUTTING CAP.IN M.S. LENGTH X THICKNESS
STROKE PER MINUTE
TABLE HEIGHT
TABLE WIDTH
FRONT GAUGE
REAR GAUGE
MOTOR HP/ 1500 RPM
SIZE OF BLADE
OVERALL DIMENSION IN M.M (APP)
LENGTH
WIDTH
THICK
LENGTH
WIDTH
HEIGHT
JSOS-1
1270X6
25
800
500
750
750
7.5
1270
75
18
2200
2000
2600
JSOS-2
1525X6
25
800
500
750
750
7.5
1550
75
18
2450
2000
2600
JSOS-3
2030X6
25
800
500
750
750
10
2050
75
18
2960
2000
2600
JSOS-4
2540X6
25
800
500
750
750
10
2550
75
18
3470
2000
2600
JSOS-5
3125X6
25
800
500
750
750
12.5
3150
75
18
4055
2000
2600
JSOS-6
1270X8
25
800
500
750
750
10
1270
75
22
2200
2000
2600
JSOS-7
1525X8
25
800
500
750
750
10
1550
75
22
2450
2000
2600
JSOS-8
2030X8
25
800
500
750
750
12.5
2050
75
22
2960
2000
2600
JSOS-9
2540X8
25
800
500
750
750
15
2550
90
22
3470
2000
2600
JSOS-10
3125X8
25
800
500
750
750
15
3150
90
22
4100
2000
2600
JSOS-11
2030X10
20
800
500
750
750
15
2050
90
22
3000
2000
2700
JSOS-12
2540X10
20
800
500
750
750
15
2550
90
22
3500
2000
2900
JSOS-13
3125X10
20
800
500
750
750
20
3150
90
22
4200
2000
2900
JSOS-14
2030X13
20
800
500
750
750
20
2050
100
25
3000
2000
3000
JSOS-15
2540X13
20
800
500
750
750
20
2550
100
25
3600
2100
3100
JSOS-16
3125X13
20
800
500
750
750
25
3150
100
25
4300
2100
3100