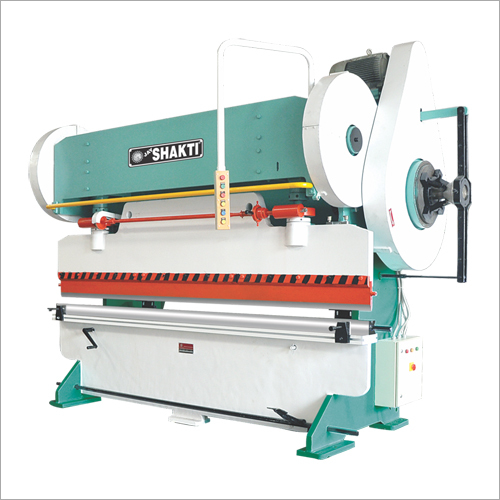 Mechanical Pneumatic Press Brake Machine
Product Description
Jay Shakti Machine Tools utilizes its years of experience in designing and developing sheet metal working machine to bring forth JSMT press brake. This press brake machine is highly demanded in the market for its continuous production run. This highly productive machine can be used in applications that demand accuracy and repeatability.
FRAME: The steel made frame has an interlocking design.The rigid, strain free frame supports the ram and bed against unwanted deflection under permissible load condition.
RAM AND BED: Steel plates of accurate thickness are used in the making of ram and bed. These are machined in order to straighten them and bring them in parallel to the working surface. The accurately machined guide ways guide and support ram throughout the stroke.
DRIVE SYSTEM:Two individual gear drives transmit the power to the ram for uniform distribution of load throughout the length as well as reduce the torsional stresses on the eccentric shaft. An electric motor of enough H.P is used to reduce slowdown of flywheel and elevateenergy available per stroke. Carbon/alloy steel is used for making gear and pinion.
RAM ADJUSTMENT:The adjustment of motorized ram through simple drive mechanism allows fast bending angle adjustment. A spring loaded dog clutch is incorporated for making angular ram adjustment.
CLUTCH AND BRAKE:A high-torque low-inertia friction clutch comes with all series of press brakes, which is synchronized with heavy duty mechanical brake that ensuresquick braking of ram on releasing the pedal. Clutch operating levers are made to minimize the engaging force at the pedal. Clutch and brake combined unit is electrically controlled and air operated, and allows high frequency of operation and more flywheel energy for operation. Clutch and brake wearis automatically compensated and there is no requirement of making adjustment.The unit is also incorporated with filter, surge tank, air lubrication unit, regulator, pressure switch etc. Pneumatic counter balancer offered counters the weight of slide and tooling, which is helpful in taking up the bearing clearances and making slide adjustment easily.
SPECIAL FEATURES:
Connection link is assembled crank shaft for uniform load.

There is a separate drive system for every connection link.

It comes with sufficient H.P. normal toques.

A boltless pedal is mounted on hexagonal bar.

Standard accessories available include general purpose V-block and punch.

STANDARD ACCESSORIES:

Standard V-block and punch

Motor mounting bracket

Pedal

Flywheel & gear guards

Back gauge

Motor pulley

Stroke counter

Manual lubrication & instruction manual

OPTIONAL ACCESSORIES:

Automatic lubrication system

Wiring

Control panel

V-belt

Push button pendent

Goose neck punch & other toolings

Electrical consist of electrical motor

Main switch &reversible switch
Technical specification
MODEL

TON

BENDING CAP.IN M.S. LENGTHX THICKNESS

CLEAR DISTANCE BETWEEN HOUSING

STROKE PER MINUTE

STROKE OF RAM M.M

RAM ADJ M.M

SHUT HEIGHT RAM STROKE DOWN

DEPTH OF THROAT M.M T

MAIN MOTOR H.P/K.W

RAM ADJ.ELE MOTOR H.P/K.W

OVERALL DIMENSION IN M.M (APP)

LENGTH

WIDTH

HEIGHT

JSPB-1

20

1525X1.6

1000

35

50

40

175

200

3/2.2

0.5/0.37

2000

1125

2300

JSPB-2

25

2000X1.6

1220

35

50

40

200

200

5/3.7

0.5/0.37

2300

1200

2500

JSPB-3

40

2500X2

1550

35

60

50

215

250

7.5/5.6

1/0.75

2800

1500

2650

JSPB-4

65

3125X2.5

1900

30

76

50

275

300

10/7.6

1.5/1.1

3400

1575

2750

JSPB-5

65

2000X4

1370

30

76

63

275

300

10/7.6

1.5/1.1

2400

1575

2750

JSPB-6

80

2500X4

1550

25

76

63

300

300

12.5/9.7

2/1.5

2900

1650

3025

JSPB-7

100

3125X4

1900

25

76

80

300

300

15/11.2

2/1.5

3450

1875

3525

JSPB-8

120

2500X6

1700

25

76

80

300

300

20/15

2/1.5

2900

1900

3550

JSPB-9

150

2500X8

1700

20

80

100

300

300

25/18.7

2/1.5

3400

1900

3550

JSPB-10

150

3125X6

1900

20

80

100

300

300

25/18.7

2/1.5

3400

1950

3650