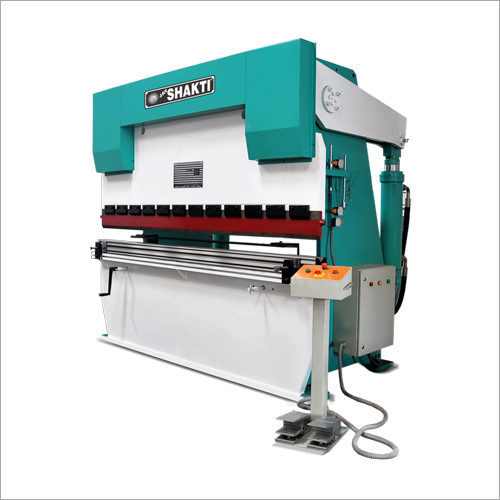 Hydraulic Press Brake Machine Rear Cylinder
Price And Quantity
Piece/Pieces

300000.00 INR
Product Specifications
Product Description
HYDRAULIC PRESS BRAKE (Rear Cylinder) in the offering is designed and fabricated using tremendous experience in sheet metal working machinery. All models of JSMT hydraulic press brake machines are developed while considering latest technology.
FRAME: The frame of the press brake is developed rigid by giving it an interlocked design and prevent its weak sections at load support. The frame constructed using heavy duty steel absorbs heavy shocks of over load. The welding edges are machined for weld joints
HYDR. POWER PACK:The hydraulic system located in bottom at rear side of press brake machine is made of hydraulic components of internationally reputed makers, for instance, YUKEN Vickers, Dowty, Rexroth, etc. Valves mounted on compact manifold block minimize piping and leakage possibility. There is an oil reservoir of a right size for oil cooling.
CYLINDERS: The precisely honed cylinders come fitted with hard chromed piston rod with sealing elements. The cylinders are assembled at backside of the machine. These are also synchronized for parallelism between ram and table, by connecting cylinders with mechanical links.
RAM TILTING ARRANGEMENT: Nut, eccentric pin and screw together make a tilting arrangement, which adjusts parallelism between ram and table.
MECHANICAL BACK GAUGE: All JSMT press brake come with a manual back gauge as a standard equipment.
V-BLOCK AND PUNCH: There is a provision of high quality, standard "V" block & "V" punch in every JSMT press brake.
OPERATION: Electric control panel and operational console present on the right of the machine enables operator to operate the machine conveniently. The panel comprises foot switch, on-off push button, pendent and three phase indicator.
STANDARD ACCESSORIES:
Electric motor

Control panel with selection of INCH-ONCE-AUTO mode of operation

Foot switch fine stroke adjustment rod with limit switches

Manual back gauge

Manual lubrication

Tilting arrangement system

Standard V-block & punch

Instruction manual

OPTIONAL ACCESSORIES:

Goose neck punch and other tooling

Automatic lubrication system

Anti deflection system

Electronic stroke counter

Nc operated back gauge
Technical specification
MODEL

TONNAGE

BENDING CAP. IN M.S. LENGTH X THICKNESS

CLEAR DISTANCE BETWEEN HOUSING

RAM STROKE

OPEN HEIGHT

CLOSED HEIGHT

DEPTH OF THROAT

MOTOR

APP.RAM SPEED MM/SEC

OVERALL DIMENSION IN M.M (APP)

H.P

APPROACH

PRESSING

RETURN

LENGTH

WIDTH

HEIGHT

JSHPB 01

30 Ton

2030x2

1500

100

280

180

240

3

40

5

60

2200

1150

1900

JSHPB 02

40 Ton

2030x2.5

1500

100

280

180

240

3

40

5

60

2200

1150

1900

JSHPB 03

40 Ton

2540x2

2000

100

280

180

240

3

40

5

60

2700

1150

1900

JSHPB 04

40 Ton

3125x1.6

2500

100

280

180

240

3

40

5

60

3300

1150

2000

JSHPB 05

50 Ton

2030x3

1500

100

280

180

240

5

40

5

60

2200

1150

1900

JSHPB 06

50 Ton

1525x4

1050

100

280

180

240

5

40

5

60

1700

1150

1900

JSHPB 07

65 Ton

2540x3

2000

150

350

200

240

5

36

5

55

2700

1200

2000

JSHPB 08

65 Ton

2030x4

1500

150

350

200

300

5

36

5

55

2200

1200

2000

JSHPB 09

65 Ton

3125x2.5

2500

150

350

200

300

5

36

5

55

3300

1200

2000

JSHPB 10

80 Ton

2540x4

2000

150

350

200

300

7.5

36

4

55

2700

1550

2300

JSHPB 11

80 Ton

3125x3

2500

150

350

200

300

7.5

36

4

55

3300

1550

2300

JSHPB 12

100 Ton

3125x4

2500

150

350

200

300

10

36

5

55

3300

1550

2300

JSHPB 13

100 Ton

2540x5

2000

150

360

210

300

10

30

5

55

2700

1550

2300

JSHPB 14

120 Ton

2540x6

2000

150

360

210

300

10

30

4

55

2750

1650

2700

JSHPB 15

125 Ton

3125x5

2500

150

360

210

300

10

30

4

55

3300

1650

2500

JSHPB 16

150 Ton

3125x6

2500

150

360

210

300

15

30

4

55

3300

1800

2700

JSHPB 17

160 Ton

2540x8

2000

150

365

215

300

15

30

4

55

2750

1650

2700

JSHPB 18

160 Ton

5000x4

4100

200

415

215

300

15

30

4

55

5300

1850

3000

JSHPB 19

200 Ton

2540x10

2000

200

415

215

350

20

22

5

44

2850

1900

2600

JSHPB 20

200 Ton

3125x8

2500

200

415

215

350

20

22

5

54

3350

2050

2750

JSHPB 21

200 Ton

4200x6

3000

200

415

215

350

20

22

5

54

4600

2100

3100

JSHPB 22

200 Ton

6300x4

5300

200

415

215

350

20

22

5

54

6600

2200

3500

JSHPB 23

250 Ton

2540x13

2000

200

415

215

350

25

20

4

42

2900

2100

2800

JSHPB 24

250 Ton

3125x10

2500

200

415

215

350

25

22

5

44

3400

2100

2800

JSHPB 25

250 Ton

4000x8

3000

200

415

215

350

25

22

5

42

4400

2000

2900

JSHPB 26

250 Ton

5000x6

4100

200

415

215

350

25

20

4

40

5400

2200

3200

JSHPB 27

325 Ton

2540x16

2000

200

500

300

350

30

20

4

40

2900

2200

3000

JSHPB 28

325 Ton

3125x13

2500

200

415

215

350

30

20

4

40

3400

2200

3000

JSHPB 29

325 Ton

4000x10

3000

200

415

215

350

30

20

4

40

4400

2200

3000

JSHPB 30

325 Ton

5000x8

3500

250

500

250

350

30

20

4

40

5400

2200

3200

JSHPB 31

325 Ton

6300x6

5300

250

500

250

350

30

20

4

40

6400

2300

3400

JSHPB 32

400 Ton

2540x20

2000

250

500

250

350

40

25

3

35

2900

2200

3200

JSHPB 33

400 Ton

4000x13

3000

250

500

250

350

40

25

3

35

4400

2200

3000

JSHPB 34

400 Ton

5000x10

4100

250

500

250

350

40

25

3

35

5400

2300

3500

JSHPB 35

400 Ton

6300x8

5300

250

500

250

350

40

25

3

35

6400

2350

3600