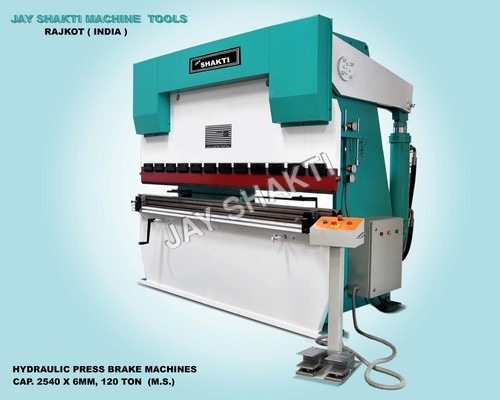 Hydraulic Press Brake Machine
Price And Quantity
Piece/Pieces

300000.00 INR
Product Specifications
Product Description
Our organization is a noteworthy and reliable manufacturer, exporter and supplier of a large gamut of Hydraulic Press Brake Machine. The offered machine is manufactured by our adept engineers by making use of supreme quality components and modern technology. The provided machine has booth cylinders, push button, electric control panel, pendant and foot switch for its efficient functionality and easy operation. This machine is used for bending metal sheets. Additionally, we offer this Hydraulic Press Brake Machine to our respected clients at the best market price.
Features:
High holding capacity

Low noise operation

Low power consumption

Minimum maintenance

STANDARD ACCESSORIES:
Electric motor
Control panel with selection of INCH-ONCE-AUTO mode of operation
Foot switch fine stroke adjustment rod with limit switches
Manual back gauge
Standard V-block & punch
Manual lubrication
Instruction manual
Tilting arrangement system.
OPERATIONAL ACCESSORIES:

Goose neck punch and other tooling
Electronic stroke counter
NC operated back gauge
Automatic lubrication system
Anti deflection system
Capacities and Specifications of Hydraulic Press Brake Machine :
Model

Tonnage

Clear distance Between housing

Bending cap. In m.s. length x thickness

Ram stroke

Open height

Closed height

Depth of throat

Motor

h.p

App.ram speed mm/sec

Approach

Pressing

Return

JSHPB 01

30 Ton

1500

2030x2

100

280

180

240

3

40

5

60

JSHPB 02

40 Ton

1500

2030x2.5

100

280

180

240

3

40

5

60

JSHPB 03

40 Ton

2000

2540x2

100

280

180

240

3

40

5

60

JSHPB 04

40 Ton

2500

3125x1.6

100

280

180

240

3

40

5

60

JSHPB 05

50 Ton

1500

2030x3

100

280

180

240

5

40

5

60

JSHPB 06

50 Ton

1050

1525x4

100

280

180

240

5

40

5

60

JSHPB 07

65 Ton

2000

2540x3

150

350

200

240

5

36

5

55

JSHPB 08

65 Ton

1500

2030x4

150

350

200

300

5

36

5

55

JSHPB 09

65 Ton

2500

3125x2.5

150

350

200

300

5

36

5

55

JSHPB 10

80 Ton

2000

2540x4

150

350

200

300

7.5

36

4

55

JSHPB 11

80 Ton

2500

3125x3

150

350

200

300

7.5

36

4

55

JSHPB 12

100 Ton

2500

3125x4

150

350

200

300

10

36

5

55

JSHPB 13

100 Ton

2000

2540x5

150

360

210

300

10

30

5

55

JSHPB 14

120 Ton

2000

2540x6

150

360

210

300

10

30

4

55

JSHPB 15

125 Ton

2500

3125x5

150

360

210

300

10

30

4

55

JSHPB 16

150 Ton

2500

3125x6

150

360

210

300

15

30

4

55

JSHPB 17

160 Ton

2000

2540x8

150

365

215

300

15

30

4

55

JSHPB 18

160 Ton

4100

5000x4

200

415

215

300

15

30

4

55

JSHPB 19

200 Ton

2000

2540x10

200

415

215

350

20

22

5

44

JSHPB 20

200 Ton

2500

3125x8

200

415

215

350

20

22

5

54

JSHPB 21

200 Ton

3000

4200x6

200

415

215

350

20

22

5

54

JSHPB 22

200 Ton

5300

6300x4

200

415

215

350

20

22

5

54

JSHPB 23

250 Ton

2000

2540x13

200

415

215

350

25

20

4

42

JSHPB 24

250 Ton

2500

3125x10

200

415

215

350

25

22

5

44

JSHPB 25

250 Ton

3000

4000x8

200

415

215

350

25

22

5

42

JSHPB 26

250 Ton

4100

5000x6

200

415

215

350

25

20

4

40

JSHPB 27

325 Ton

2000

2540x16

200

500

300

350

30

20

4

40

JSHPB 28

325 Ton

2500

3125x13

200

415

215

350

30

20

4

40

JSHPB 29

325 Ton

3000

4000x10

200

415

215

350

30

20

4

40

JSHPB 30

325 Ton

3500

5000x8

250

500

250

350

30

20

4

40

JSHPB 31

325 Ton

5300

6300x6

250

500

250

350

30

20

4

40

JSHPB 32

400 Ton

2000

2540x20

250

500

250

350

40

25

3

35

JSHPB 33

400 Ton

3000

4000x13

250

500

250

350

40

25

3

35

JSHPB 34

400 Ton

4100

5000x10

250

500

250

350

40

25

3

35

JSHPB 35

400 Ton

5300

6300x8

250

500

250

350

40

25

3

35
Trade Information
Yes

Contact us for information regarding our sample policy
as per customer requirement

All India